Sunday! Today, we hike the northern coastline first-time. Tricky to access as there are no busses from Ferreries to the nowhere. So we take a Taxi, again ;). The driver must have been in a Sunday mood (or even not?) as    we needed to leave the cab 2 km before the coast. Okay, well … there's just a gravel track going on but it doesn't show a sign of cellulitic ground conditions at all so we could have been driving on easily! Anyway, who cares about 2 km more today… ?
Cala Pregonda is our starting point for today. It's choosen freely as the only importance is to reach Fornells this evening.
The coastline here in the north is completely different from that in the south, jagged, rough, and not as picture-perfect as in the south. Everything seems to be more cold and distant and that's not just because of the weather. But, honestly … it has its own charm.
It is cloudy today thus not too warm. Ideal conditions for the 16 km in front of us …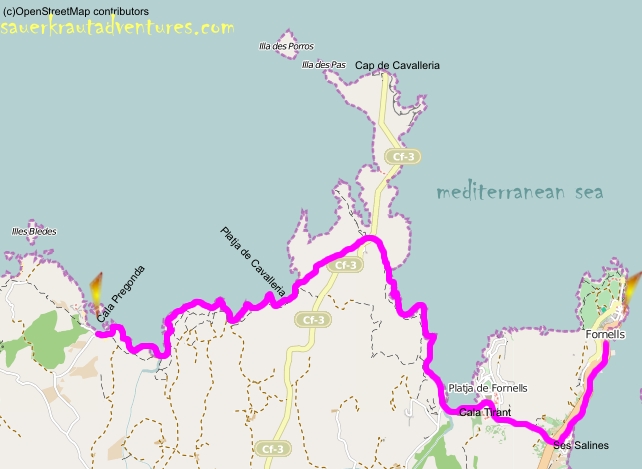 Here in the north, mainly in the western part, there's hardly any infrastructure. That, in fact is the reason for us not to walk the whole trail. We can't as between Cala Morell and Cala Tirant it's 32,5 km beeline – infeasible in one day with 15 kg luggage. That really is a major shortcoming for the trekking community as not to have any shelter half-way.
Anyway, we turn east and the trail is straight along the shore for the next 4 km to the Platja de Cavalleria. This 650 m long sandy beach is an eye candy, make sure to have a look at the gallery pics! At the opposite side of the beach, wooden stairs lead on the cliffs and we follow the Camí for the next three, four kilometers inland now, as here extends a 3 km long peninsula the rest of the island – with the Cape de Cavalleria at its endend as the northernmost point on Minorca. But we can't stop for a visit, not today. [PS: more details on Sept. 25]
Shortly before 2:30 pm and shortly before Cala Tirant likewise, a heavy thunderstorm comes up. Awesome spectacle! Tirant lays lazy in the rain, there's no bus today on Sunday to Fornells. So we get the last 4 km under our feet, not funny from Ses Salines as an asphalted footpath is right alongside the road. Wet and tired we are happy to hit home at our hostel S'Algendar, happy for dry clothes, web access and delish food. The latter can become a central issue as Fornells is a fishing village threading seafood restaurants and seafood restaurants like pearls on a string. Including lovely view on the boats. Charming meets delicious, thumbs up! :)