As early as 7 am we are back to the coast to enjoy the sunrise and to return to the yesterday's viewpoints without heavy luggage.
Yesterday, we've been too exhausted and surfeited to savor the beauty of the last 2, 3 kilometers. But we definitely do today and visit each and every view point. It's highly recommended to do so, it's worth the early morning rising!
At about 10 we've left the apartment, had a delish breakfast at S'Escompinya and are back under the backpacks. It's not too easy to find the way out of Galdana what let us have a nice talk with an elder couple who were impressed to hear we are walking the Cami. Finally we found our way out (across the bridge at the beach til the traffic circle, straight right to the Camí). To reach Cala Mitjada it's a 40 min walk plus a tricky descend (tricky because of the backpacks). Cala Mitjana is an incredibly beautiful cove – like the yesterday ones. The pretty high limestone cliffs make it somewhat special though.
From here, there are two possibilities to reach our next destination Binigaus: We have to decide whether to take the Camí for about 3 hours or the (way shorter) Sendero Litoral directly along the coast, across the cliffs, with unknown probably tricky ups and downs. Considering the weight on our shoulders, we decide not to take any risk thus for the Camí what turned out to be a very good choice. Although it's not along the coast, it's a scenic path to walk pretty easy. One can dwell on thoughts and listen to Angus & Julia Stone as an infinite loop :). We walk through a sylvan landscape, less arduous and pretty relaxed!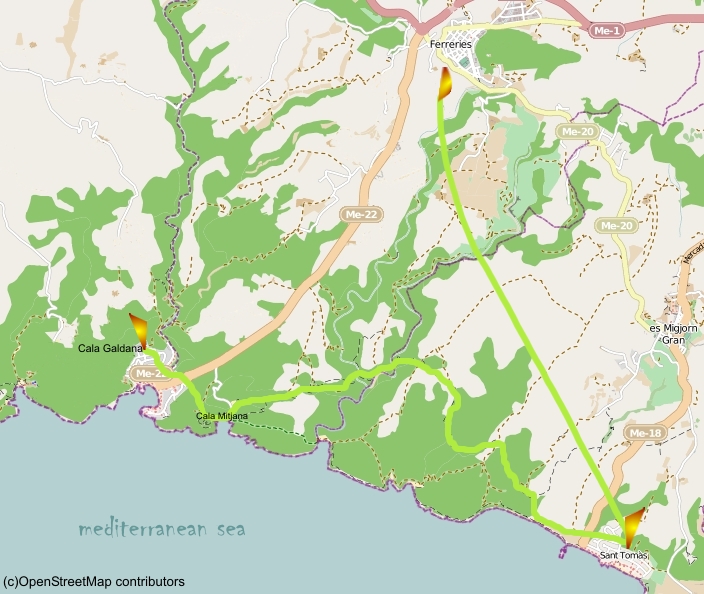 After 3:15 hours we reach Binigaus, an uncharming huge sandy beach hosting the typical vacationer with sunshade & Co.
Anyway, we take a break and go swimming what we deserved, yes! And we have plenty of time as it's just a 30 min walk to Sant Tomas where we have to catch our bus. The environment does not fit our taste – tourist concrete jungle and animation culture – from our point of view definitely not a 'must have'. As a consequence, and before we suffer from a south-coast-fascination-overkill, we turn north and stay half-way in Ferreries for the next two nights.
We check-in, stroll around the village, run some errands and have dinner at home – all enough for today.
Hasta mañana lovers!