The day starts incredible as sun continues shining and we can unpack and do with losing a few kilos of luggage what we don't need within the next 3 days. We go back to the south but come back here in a couple of days for veeery good reasons.
As we will stay another night here at Hostal S'Algendar, we can leave some stuff til we return.
After having an average breakfast at the S'Algendar, we take the bus to Mahón on 10:30 what is departing right behind the hostel. The ride takes 75 min via Arenal d'en Castell what turns out to be a horrible pile of concrete. We won't miss it.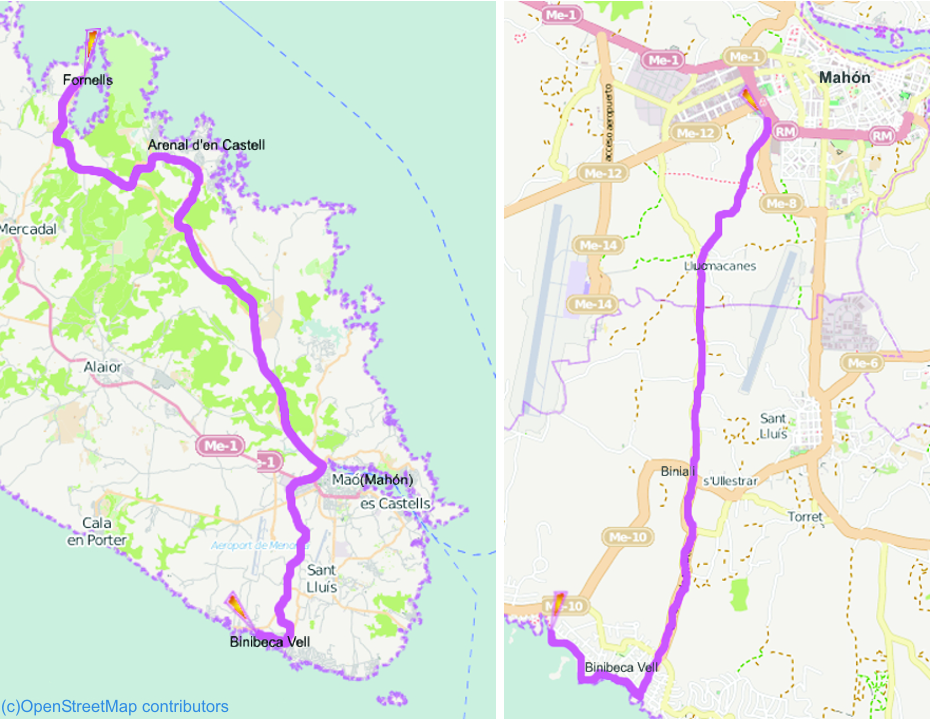 After arriving at the central bus station of Mahón, we took a city bus from the same station to the Hospital, where we continued to be wanderers. As from here starts our trail back to the south, at first to the village of Llucmacanes. It's a calm, asphalted way leading along private properties – seems time stands still. In the backyards struggling tortoises and we cross a magnificent summer flowerage.
From Llucmacanes we walk along the Camí de Biniparell to Binali and onwards following a busy street to Binibeca Vell for the next 2.5 km. Binibeca is our today's end point, to be more precise our phantastic accommodation at Binivell Park.
This apartment complex is awesome, designed after a Moorish village with entangled houses and narrow winding alleys. Pretty unique. Even a church is to find. The apartments with own bathroom and kitchen are plastered with clay and pearly-white, in- and outside (reminded me somewhat of a Flintstone's cave). Of course, I directly needed to get some details from a (very friendly) staff member who told me that the whole complex was new-built for holiday apartments. (I basically thought it was a brushed up fishing village. No, wasn't). Respect – I've hardly ever seen such a lovely hotel. We strolled through the maze of alleys, found the church, climbed up to our neighbour's roof terrace and finally found a supermarked that supplied us perfectly. Cooking … eating … relaxing … :)  And: we had our own cat on our terrace. Communication was entertaining, my CatCatalan is obviously pretty good ;)
For the sunset, we and a good bottle of red wine went to the opposite embankment to enjoy our lovely home in the glow of the setting sun.
So came a nice day to a peaceful end – may everybody out there have such a good night!
Desde Binivell Park al cielo!  :)