It's somewhat hard to leave Binibeca and turning worse because of an aggravating circumstance: I've problems with my right hock and pain way out of my comfort zone. But I won't surrender  
and so we make a move to the west. My 10 kilo backpack turns out to be my worst enemy and lugging it round is exhausting. But the landscape is very nice and made it allright.
The Camí starts right behind the bridge at Binivell Park leading directly along the cost until we reach the estate of Binissafuller with its pretty nice sandy beach. Not too easy to find the Camí turnout but in compensation it's really nice to walk at the end. The trail now runs inland and we reach the next village Canutells after 2.5 hours. For having lunch with ocean view we decide to leave the Camí and heading down to the sea in Canutells. 'Down' means 'up' for the way back – what is just simply annoing when pigged out, handicapped (my foot) and wet sweated. Finally, we are back on the Camí and in the woods – pretty good to walk again.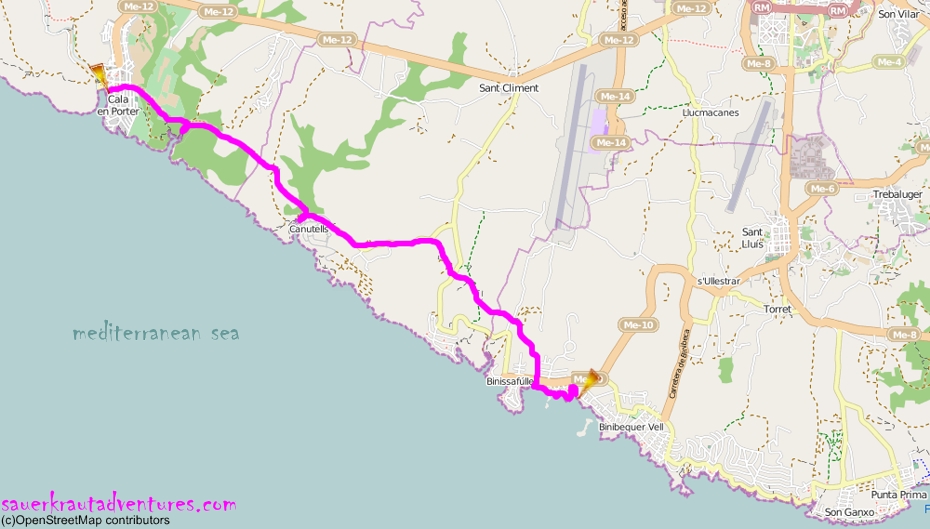 It's shortly before 3 when we are in the home stretch to Cala en Porter what is today's destination, so we are detouring into the gorge to the Necròpolis de Cales Coves (cave beach). Apart from the beautiful double bay at Cales Coves you can also discover about 100 prehistoric burial caves carved into the rocks from 1000 BC. During the 1980s and 90s, the caves were inhabited by hippies but today they are empty. You can lose endless time with climbing to and through the caves – and also profi climbers hang around in these fascinating up to 70 m high limestone cliffs. Swimming is possible but the beach is not as stunning white-sandy as in other coves.
Back on the Camí heading to Cala en Porter we make a quick side-trip to one of the sea-side cliffs to get a bird's eye view on Cales Coves. Amazing! (really check the pics)
It's just a stone's throw from here to Cala en Porter. Our hostel is overbooked and we get upgraded to a fancy resort where we move into our mega huge apartment. Cala en Porter in general is quite touristy, I guess the beach must be crowded during the day. Our advantage is a shopping complex just around the corner where we organize some cooking ingredients for dinner and bump into a pharmacy to get some goodies for my foot. Jesus … just two more walking days should not be that big deal!
Today's night gets an Gold Star for 'the best at the end' category! Whoever spends time on Minorca should go get a drink at Cova d'en Xeroi! Preferably schedule it for the rest of the night, even if there's no official event. Cova d'en Xeroi is a chill out/party location in caves and on terraces directly in the cliffs. 14 EUR entrance fee are worth the spectacular view and the feeling! They play canned ambient music unthought of what's going on here if there's live music. We like it anyway, the self-produced sampler are incredibly atmospheric and leave a rad holiday feeling.
Exactly this way we chill through the night – Hasta mañana you loved ones out there!