Our last day at the south coast starts early and at 9 a.m. we've already left the village. We access the gorge what means we walk inland again. 'Walk' is gently overstated as the old girl continues to walk with a limp. Still foot ouch. But by a clear stroke of fate I've found a cane right at the beginning of the walk what is my best friend now and makes me easily move on in good spirits.
The first kilometer is along an orchard and some slight signs of civilization – but soon we are back to the pampa. It's 5 kilometers through farmland in the middle of nowhere until we reach the turnout to Torre d'en Gaumès, what is an archeological excavation site of a talayotic settlement from 1400 BC (or maybe even 1401).
After all the plowland a real highlight and so we disguise our backpacks in the shrubs and jump the 1.5 km to seeing sights. Don't worry, we have to come back here later to move on the Camí (besides the point of each trekking tour where you can't see nor carry your backpack anymore – and this point is right now!), so we leave the load without bad conscience and feel 10 kgs slimmed (maybe because as we are).
Well, Torre d'en Gaumès: let's say it was interesting. All those who are on archaeological traces might spend a day here. For us it was a lot of old stones built to watchtowers (talayots) and dugouts. Good to know … ;)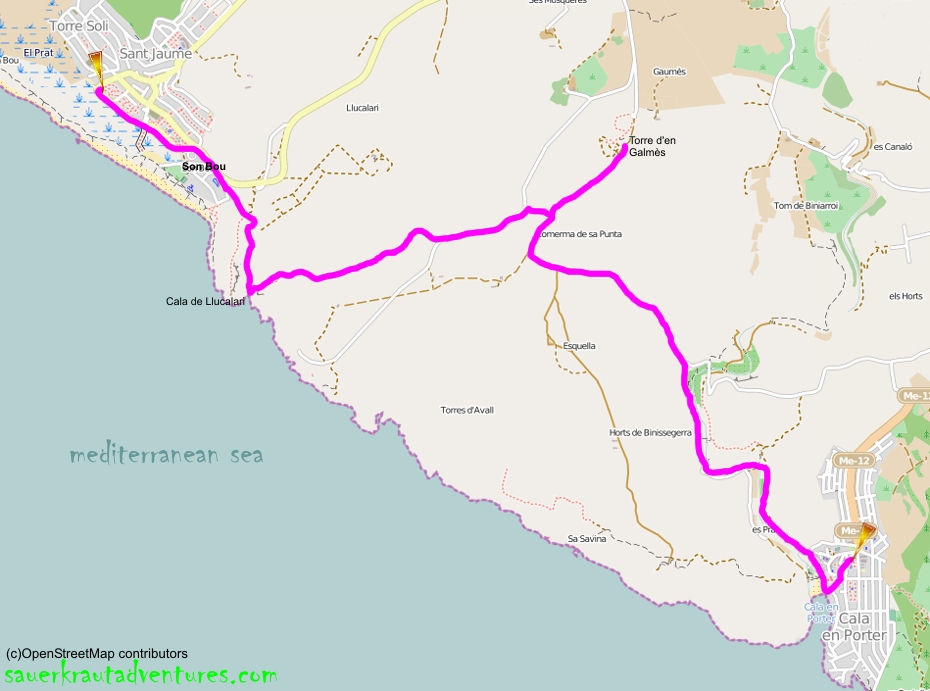 After 45 min we're on the way back as there's a lot in front of us for the rest of the day. At first it is 2.6 kms to the Cala de Llucalari. Another cove again, still different from those we've seen here in the south so far. It's pretty small and quite craggy, no sandy beach. (Seems they dragged it all over to Son Bou.) The bay is embraced by impressive cliffs, another paradise for cragsmen.
We just have a break and scramble around before we take the sort and last stage over to Son Bou, today's destination. This place is also quite touristy, fair unbeautiful.
But our apartment is on the opposite side of the village in calm and cosy atmosphere. The whole complex is as nice as big (all that!). As it's with 5 p.m. quite early we waste some time to relax at the pool and go hunt our dinner after that. On the way back I have an endless chat with the receptionist getting news and kindness and real interest in the fact that there are people walking (!) around the island and call this vacation as well.
They, themselves are not really familiar with their own island (sure, with 700 km² it's smaller than Berlin anyway) – but they've heard about some of the coves and beaches and the Camí de Cavalls. I highly extol country and people and they are pleased to know about the beauty of their island. If there wouldn't be that much work … 'To work where others spend their vacation' is probably not more than a silly tagline and not always the ideal concept.
Later the evening we went back to the beach what one can only access from the village center. And luckily we did as we've got amply rewarded by a really great sunset and the one and another gulp from a charming bottle of red wine.
So folx, that was my stories about the Minorcean south. Next beach to the west is Sant Tomàs what we've left 5 days ago. Means we made it, and it was amazing! As usual I leave a part of my supersized heart here and I say this:  it's perfecly placed!
See you tomorrow when we're back up north. ¡Adiós!