A warm welcome to our eighth trekking day, the last one on our own feet. It's reviewed quickly as I've already introduced our destination Fornells a few days ago. But okay … starting over:
As for today we've been hiking our last walkable stage of the northern coast. For that we took the bus from Son Bou (south coast) to Mahón at 10 in the morning. The bus terminal is just a stone's throw from Placa de s'Esplanada where we have a great and pricy breakfast at Café ou Té.  Placa de s'Esplanada spots many cafés and restaurants and reminds us a bit of Placa des Pins in Ciutadella.
Lunchtime is over when our bus leaves to Son Parc at the north and once more we better steer clear from Arenal d'en Castell. Arrived at Son Parc we've got a first view on the amazing big and shoal bay with its white sandy beach and turquoise-blue water, called Arenal de Son Saura.
We cross the village going west until the parking area to reach a pine forest what surrounds us completely uncivilised for the next two hours. And again we discover a fauna so much different from other places here on the island; again: diversity on this small island is truly mindblowing and endlessly fascinating to us.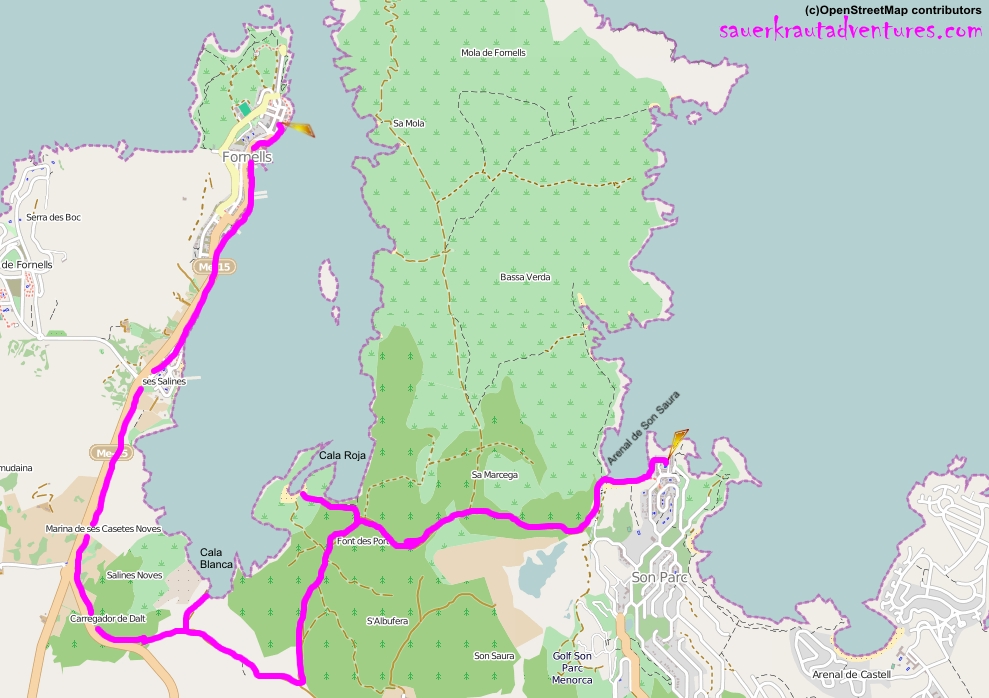 Btw., along our way here are two stunning bays on private areas: Cala Roja and Cala Blanca. As there are only signs, no fences, we feel free to walk in and consider the privacy information just for insurance reasons. No one was here to convince us of the contrary … ;)
After another kilometer we start to hike the less beautiful part of today's stage as the Camí leads for the next 3.6 directly along the street. At first as a shoulder, later as divided hike/bikeway along the Fornells Bay. To walk here is okay but not better. For those who would: right behind the forest you find a big parking on the right what is good for hitchhiking. The drivers are really friendly and helpful! But we stick it out and walk in order to being able to tell you how it was …  :)
So we are back at Fornells now, back at our Hostal S'Algendar. We've already told you about it a few days ago. At about 7 our group of equestrians arrived what we will join for tomorrow to manage an interesting but not really walkable part of the Camí on horseback. What is a MUST-DO anyway as that's the Camí de CAVALLS after all!
Bye til tomorrow from the horseback!