Yeeee-haw! As we don't really know what is ahead of us, waking up leaves us in a state of joyous anticipation: whole day in the saddle. How come? Well:
The part Addaia – Cape de Favàritx – Es Grau is a serious challenge. 21 kilometers have to be walked as in between is many stones and nature and way more stiff climbs and downs but NO shelter to stop over. Even at the end, in Es Grau, we had no chance to get an affordable room for just a night. And honestly, we wouldn't take taxis time and again. At least no cars … ;)
So luckily I found a farm with many horses and just as many trail offers. And after I found my phone as well (weeks back in Germany by the way) and had a pretty nice talk with Sarah (from the farm) it became clear: we do it on horseback. In a certain way it means a respectful dealing with the Camí de Cavalls (we remember: it means horse trail) anyway.
At 9 in the morning, our main luggage got shuttled in the team bus and so we got, just a pretty little scrap to Addaia. Here we took the horses, packed our saddle bags aaaand mounted. I'm riding Gin, a genuine Menorcan, and hope his name is not really a bad omen – or if so I hope he has already got his dose for the day ;) . As confidence-building measure we start right away with a steepish, stony slope; pretty funny with an unacquainted horse! But since it worked much better than feared we just did some additional obedience training to realize we are a great team. From now on, the trail is much more relaxed and I enjoy the atmosphere and surroundings.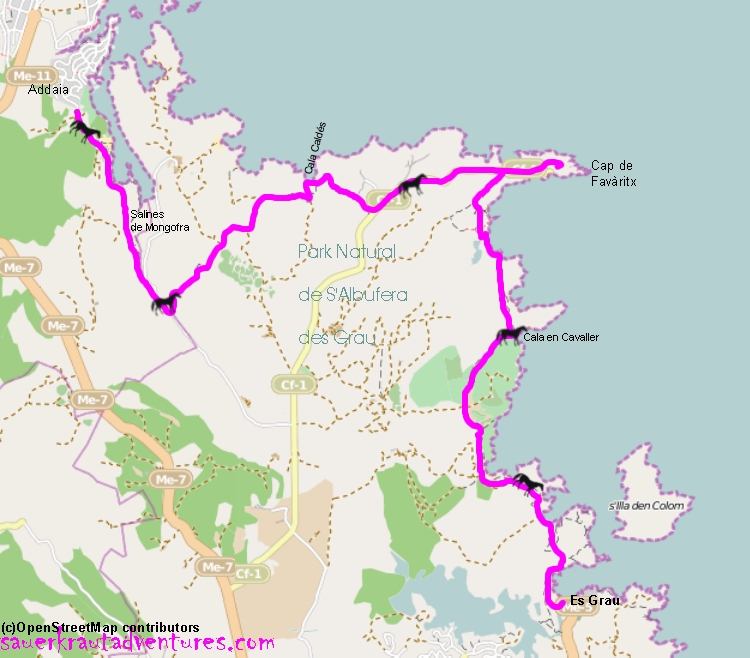 Those are along the Port d'Addaia and the Salines de Montgofra to our first stop at Cala Caldés. Here we water the horses and rest ourselves by enjoying the beach and view. All further impressions until the northeastern point of the island, the Cap de Favàritx, are visualized at the gallery.
When we arrive at the cape it is 1:30 pm. Lunch break! The orga team brought a delish catering in form of a huge Paella, fresh salads and icecold drinks. We dig in and enjoy the next hour eating, swimming, and relaxing.
About Cape de Favàritx: the spacious area, battered by storms from the north, is of rugged, black and grey slate cliffs, vegetation is hardly ever to find. Sparse moonscape. At the very end of this stunning beautiful setting a solitary lighthouse is located. I guess hiking this part must be a bit depressive mainly if we see no end even from horseback …
After horses and horsemen got refreshed, we move on deeper into the national park Albufera des Grau. To be precise, the whole way back was a part of it, but from now we access the biosphere reserve. Vegetation comes back in a really overwhelming way. After one more hour going south another highlight: Cala en Cavaller. To come down to the beach is exhausting but being there is amazing as we have it almost only for us. Sure, who else will come here to the middle of nowhere?
The last 4 km to Es Grau are flying away, too sad. Whereas: such a day in the saddle is also a physical experience if you know what I mean ;)
We say goodbye to the horses and the team and the rest of the group and get a lift to Mahón, where we check-in at Hostal Europa at 7 pm. The room is average but we are immediately in a horizontal position ;)  I can't really remember how we've made it to get up again to have dinner. But that's the very last deal for today, we are completely worn out. How should we have managed to walk that way?
I'm really greatful for that phantastic intuition I had, greatful to Sarah and the whole team of Menorca a cavall for making trails like this possible and really much obliged to Gin who had to do the most part of the work today.
I'm done for today. Completely ;).