Recipe for the Spanish national drink

Whenever you are in Spain going to a restaurant after siesta (in the afternoons or evenings), you are hardly able to avoid having a jug of Sangria. D'you know the meaning of Sangria is 'bloodletting'? When freshly prepared it tasts as if one has tapped el sol, indeed. And the feeling of Spanish sun is captured in your glass.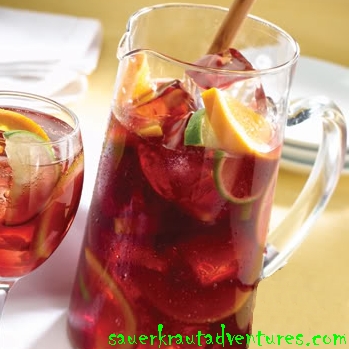 Homemade Sangria is a really phantastic summer drink, pretty refreshing.

Sangria is conveniently prepared in a glass pitcher with at least 2 liters capacity.
Added ingredients:
ice cubes, about ¼ of the pitcher volume
2 unpeeled organic oranges, sliced
2 unpeeled organic limes, devided into eights
seeds of 1 pomegranate
1 bottle of dry and fruity red wine
fill the rest with fresh orange or pomegranate juice, possibly fruit tea
Serve ice cold.